This September, the GW Heart & Vascular Institute team completed the 10th Annual Medical Mission to Honduras.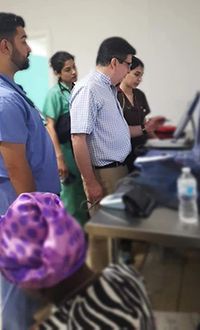 Our team provides life-saving pacemakers and defibrillators to patients in need. 
The cardiology brigade led by Drs. Cynthia Tracy and Marco Mercader implanted 49 devices during their two-week visit. 
A total of 370 pacemaker and defibrillator implantations have been performed over the last decade.
A record number of patients, 342 in total, were seen by the team for device follow ups and cardiac evaluations.  This brings the total to 1,842 patient evaluations since 2010. 
Patients from across the country traveled for up to seven hours to see the GW medical team.
According to Dr. Tracy, "This year was a very special year for the Brigade.  It is hard to imagine that we have been doing this for 10 years!
The team touched more lives that can be imagined and is regarded as one of the major medical missions to Honduras.
Working with the dedicated team both from GW and our partners in Honduras, is an honor and a privilege."
The team was recognized at a special celebration by Juan Orlando Hernández, the President of Honduras.
This was attended by other dignitaries including General Louis Cordero and the Governor of Comayagua, Carlos Aguiluz.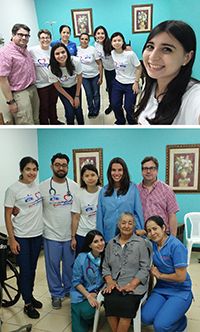 Working in partnership with medical professionals from Centro Medico Comayagua Colonial Hospital,  the 2019 GW team included two second-year medical residents, Drs. Lilly Dastmaltchi and Tran Nguyen; a third-year cardiology fellow, Dr. Raza Yunus;  a technician from the Washington, DC VA Medical Center, Eli Sevilla; and Maria Fernanda Cruz an engineer from Medtronic. 
Our partners in Honduras include Dr. Dorys Chavez, Dr. Pablo Toro, and Dr. Marcial Vileda.  These dedicated physicians care for the patients before, during and after the Brigade.
Dr. Marco Mercader calculated that about 2-percent of the Honduran population is currently being treated for heart arrhythmias.
"The need for pacemakers and defibrillators is particularly great in the region due to Chagas disease.  The parasite transmitted by the Kissing bug, attacks the heart muscle and electrical system leading to the  clinical condition known as Chagas disease, which requires pacemakers and implantable cardioverter-defibrillators as part of the treatment,"  said Dr. Mercader.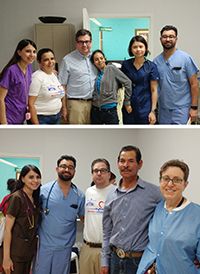 "In just 9-days, our team provides half of the pacemakers and defibrillators implanted annually in Honduras.  We estimate the Honduran population may need several thousand devices annually."
Over the last 10 years, Dr. Tracy has acquired more than $3 million in donated heart devices and medical equipment.
Supporters of the 2019 GW Medical Mission include Medtronic, Abbott, GW University Hospital,  Heart Beat International and GW Medical Faculty Associates.