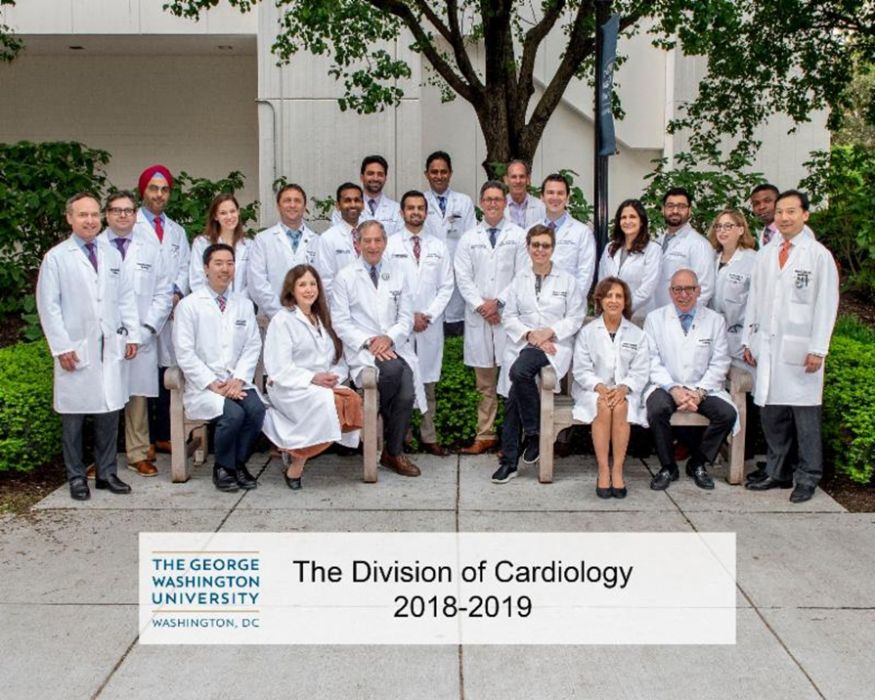 The GW Heart & Vascular Institute continued support of a wide range of programs in education, research, and community service to advance clinical care. The following are highlights of our accomplishments this academic year. 
Education
Educationally, the Division faculty supervised our 12 cardiology fellows in addition to teaching medical residents, GW medical students and physician assistants. Drs. Mercader and Panjrath organized our weekly Cardiology Grand Rounds inviting a wide range of national experts, including hosting 8 visiting professors.
We are particularly proud of our six graduating cardiology fellows who completed their fellowship training this June from the GW's general cardiology, electrophysiology, and interventional cardiology fellowship programs. Dr. James McCaffrey is continuing his training in cardiology as an electrophysiology fellow at the University of Pennsylvania. Dr. Mortada Shams is continuing training at GW in our interventional cardiology fellowship, and Dr. Talal Alzahrani is continuing his training as an advanced imaging fellow at Columbia University. Our advanced cardiology fellows graduates include Dr. Syed Quadri who completed our electrophysiology fellowship, and our Interventional cardiology graduates Dr. Umar Tariq who is joining a practice in Mississippi, and Dr. Samad Zaheeruddin who is joining a practice in Dumfries, VA.
Community Service
Drs. Tracy and Mercader conducted the 9th Honduras Mission treating over 200 patients and implanting 50 pacemakers and ICDs. This annual event has inserted a total of 321 devices totaling over $3.5 million donated medical equipment. Our faculty and fellows provided health screening at churches and high school athletic screening as well as volunteering at Food and Friends. The Institute hosted events at the GW and Textile Museum.
Clinical Care
Clinically the GW Cardiology Division has expanded services to better serve our patients. Under the leadership of Dr. Gurusher Panjrath, the Advanced Heart Failure team now offers Left Ventricular Assist Devices.  Drs. Joseph Krepp and Panjrath have combined imaging and heart failure expertise offering new diagnostic and treatment options for patients with amyloidosis. This year we launched a Pulmonary Hypertension Center of Excellence directed by our newest faculty member, Dr. Mardi Gomberg. The structural heart team, comprised of Drs. Nagy, Reiner, and Mazhari, has increased case volume completing over 250 TAVRS and adding MitraClip and Watchman procedures. Dr. Andrew Choi expanded multimodality cardiac imaging and started an elective rotation for fellows. Drs. Panjrath and Katz and our Heart Failure NP supervise our innovative community health worker program serving our inner city patients and reducing rehospitalizations.
Research
Our faculty and fellows have produced a record number papers and presentations. Between July 2018 and June 2019 the GW Cardiology faculty published 47 manuscripts and presented 41 abstracts. Faculty, fellows, residents, and GW medical students presented their work at the American Heart Association, American College of Cardiology, American Society of Echocardiography, Society for Cardiovascular Angiography and Interventions, International Society for Heart and Lung Transplantation, American College of Physicians, TransCatheter Theraputics (TCT), Society of Cardiovascular CT, Heart Failure Society of America and the Heart Rhythm Society national meetings. In addition, our faculty were invited speakers providing 41 presentations at national and regional scientific meetings.
Academic Leadership
This year our cardiologists have been selected to leadership roles on 32 national committees and journals. Dr. Panjrath chairs heart failure committees for the American College of Cardiology and is a member of the VAD Journal editorial board. Dr. Tracy serves a senior role for the Heart Rhythm Society, AHA, and ACC and is a member of the editorial board of the Journal of Interventional Electrophysiology. Dr. William Borden is Associate Editor for Circulation Quality Outcomes. Dr. Andrew Choi is an editorial board member for the JACC Cardiovascular Imaging journal and an expert on utilizing Twitter to reach medical professionals. Dr. Gomberg serves on the editorial boards of Chest, European Respiratory Journal, and JACC, and Dr. Katz on the British Journal of Cardiology.
The GW cardiology faculty has unique expertise as national experts on health care policy. Dr. Borden advises the ACC and AHA on policy issues and Dr. Farmer extended his role as Senior Advisor and Senior Medical Officer for CMS/CMMI.
We are grateful to our donors for their support of these programs. We look forward to another productive year!